Sweden, October 1st, 2020 – CBRE announced today that Sofia Sandell and Yvonne Ehinger have been appointed Nordic Managers for their respective functions People and Marketing.
For Swedish version, please click here.
Sofia will lead CBRE's new Nordic People Team, which consists of Stina Hiljanen, Finland, Malou Dalsgaard Ullerup, Denmark and Solfrid Hader, Norway. Sofia will start her new position today, which she will share with her current position as Head of People, Sweden.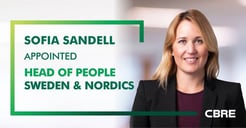 Sofia has led the People team in Sweden for almost four years. During that time, she has significantly improved the HR-work. She also has the responsibly for the Office Management and IT departments. Read about how CBRE works with its employer brand in the article "CBRE Hotter than Apple and Tesla" on Sveriges Fastighetsblogg.
Sofia comments:
"I look forward to leading and collaborating with my colleagues in the new Nordic team. It is a very competent team with a strong drive and engagement. We will continue to develop and strengthen CBRE's employer brand, with the ambition of being the best employer for the real estate industry in the Nordics."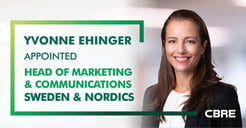 Yvonne has been appointed Head of Marketing & Communications for the Nordic region. Yvonne has been working for two years to digitize the marketing for CBRE in Sweden, which has led to an industry-leading position, online.
CBRE recently won first place as Sweden's best industry real estate blog for its Swedish Real Estate Blog - Sveriges Fastighetsblogg. CBRE has since launched the Nordic's Real Estate Blog. In 2019, Yvonne was nominated as the Marketing Manager of the Year, "Årets Marknadschef" by the Swedish Marketing Association. Yvonne will also continue in the role of Marketing Manager in Sweden.

Yvonne says:
"I am really thrilled to work closer to our Nordic colleagues. It is an experienced team that confirms that Marketing at CBRE is at the forefront. Together with colleagues in EMEA and globally, we will do our best to support the business and strengthen CBRE's brand."
The Nordic marketing team consists of Lene Jorgensen, Denmark, Hilde Rusnes Norway and Miia Mäkinen, Finland. In Sweden, also Eugenia Duarte Walker works at People and Anna Flodmark works at Marketing. Yvonne is starting her new position today.
Patrik Kallenvret, MD, CBRE Sweden comments:
"I am happy and proud that two of our Swedish employees have been appointed and given responsibilities for the Nordic teams. They have developed our work with People and Marketing in Sweden with great results. The way we have improved our brand and brought forward our, especially through Social Media, is very much thanks to Sofia and Yvonne. They have the knowledge and experience required to achieve our high ambitions and objectives for the Nordic markets. Earlier this year we also appointed Amanda Welander as our Head of Research, Nordics & Sweden."

In addition to CBRE's Nordic team for People and Marketing, Finance will also work in a Nordic team, led by Stian Brunes. CBRE has previously announced that they have Nordic teams for Capital Markets, Project Management & Building Consulting and Research.
CBRE's Nordic team offers advisers and experts on site to lead and strengthen our business and employer brand. Our goal is to position CBRE as the market leader in the Nordic region.

CBRE has been active in the Nordic market since 1999 and the Nordic countries are expected to grow faster than the other European countries and all Nordic countries are among the Forbes top 15 best countries to do business in. Only 10 countries globally can boast a AAA rating from all three top rating agencies, and of these three are in the Nordic region.
Nordic expertise.
Global perspective.


Read more from the Nordic Teams at CBRE's Nordics Real Estate Blog.
Please follow news from CBRE Nordics at LinkedIn and Twitter.
About CBRE
In Sweden CBRE have offices in Stockholm, Göteborg and Malmö with 300 employees.