Despite a tumultuous 2020, a degree of investor optimism has returned as 60% of investors expect to step up purchasing activity in 2021, according to CBRE's Global Investor Intentions Survey. Our advisor Linn Gregorsson tells you more.

Multifamily/residential
Multifamily/residential was the second most preferred investment asset class after industrial & logistics in the Americas and after offices in Europe, Middle East & Africa region (EMEA). It ranked third in the Asia-Pacific region (APAC).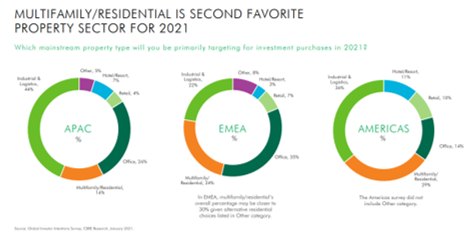 Multifamily/residential is the largest investment asset class in the U.S.
Multifamily/residential is well established in the U.S., where it has been the largest investment asset class for the past six years. In some other parts of the world, multifamily/residential housing is a newer but rapidly growing asset class that is becoming increasingly attractive to investors.
Student housing and seniors housing
Student housing and seniors housing both remain popular among alternative real estate sectors, but less so than in 2020. Four multifamily/residential alternatives were added to this year's survey, reflecting the broadening appeal and diversity of multifamily/residential assets.
The Nordics
Looking into the Nordic perspective - multifamily is the largest commercial real estate sector in the region, with a total investment volume in 2020 of 13.7 EUR bn. Travel restrictions were an impediment to foreign investors during 2020, but as vaccinations make it possible to open up the economies again, we see foreign investors quickly returning to invest in the sector and in the Nordic region.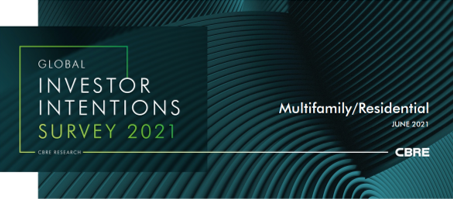 Download the survey below.
For more information about Multifamily/residential, or if you would like to book a meeting, please contact Linn Gregorsson.
Did you miss the European Multifamily Housing Webinar?
Click above to watch a panel of experts from across Europe sharing insights.
Read more at cbre.se about Capital Markets, and Research.