The Swedish Logistics Snapshots are unique and very popular. We are glad to publish the CBRE Logistics Snapshot for Q1, 2021, written by our experts.
Continued foreign investor interest
Roughly half of the purchaser investment volumes in Q1 2021 stemmed from foreign investors.
Read the key takeaways in the report.
CBREs Hampus Otterhäll is one of our experts in the Logistics segment and a very appreciated spokesperson for the segment. Please contact Hampus or any of his colleagues below, if you have questions.
The Snapshot highlights the Logistics Investment market overview and the Logistics Occupier market overview. Download the report below.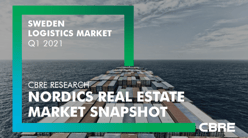 You can find more Logistics articles and previous Snapshots here >>
For more information about the Logistics Snapshot, please contact:

Capital Markets – Hampus Otterhäll
Advisory & Transaction Services,
Investor Industrial – Christoffer Bladh Nord
Advisory & Transaction Services,
Investor Industrial – Johan Bäckman
Research – Amanda Welander
Valuation – Andreas Eckermann
Read more at cbre.se about Capital Markets, Valuation (Fastighetsvärdering), A&T Investor Industrial & Logistics and Research (Fastighetsanalyser).