CBRE presents the Logistics Snapshot for Q3, 2021, written by our experts.
The Logistics Snapshot Q3 2021
Strong investor interest in logistics real estate in Sweden has continued even during Q3 2021. Pandemics have had little effect on the logistics real estate investment market in Sweden.
Investments in industrial real estate in Sweden have increased dramatically during Q1-Q3. Investments during 2021 are expected to be at least as high as during 2020.
Read more in the Snapshot. You can download it below.
CBRE's Christoffer Bladh Nord and Hampus Otterhäll are two of our experts in the Logistics segment. Please contact them or any of their colleagues below, if you have questions.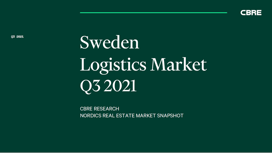 You can find more Logistics articles and previous Snapshots here >>
For more information about the Logistics Snapshot, please contact:
Capital Markets – Hampus Otterhäll
Research – Dzmitry Fando
Advisory & Transaction Services,
Investor Industrial – Christoffer Bladh Nord
Advisory & Transaction Services,
Investor Industrial – Johan Bäckman
Valuation – Andreas Eckermann
Read more at cbre.se about Capital Markets, Valuation (Fastighetsvärdering), A&T Investor Industrial & Logistics and Research (Fastighetsanalyser).