The investment volumes in the 1st quarter were lower than the record volumes of Q4 but were still firmly set higher than for the same quarter in 2020.
Strong market
After very low cross-border investment volumes during 2020 due to travel restrictions, foreign investors returned decisively in Q1. As Swedish prime yields for
new production remains compelling relative to other European residential markets,
we expect the current interest to continue.
Overall interest currently seems stronger than the number of objects out for sale.
Read more in the Snapshot. You can download it below.
For more information about the Multifamily Snapshot or if you would like to book a meeting, please contact: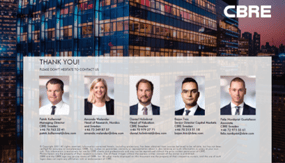 Capital Markets – Bojan Ticic, Patrik Kallenvret & Felix Nordqvist Gustafsson
Research – Amanda Welander
Valuation – Daniel Holmkvist
Read more at cbre.se about Capital Markets, Valuation, and Research.