CBREs Hampus Otterhäll works exclusively with industrial & logistics and has in the recent past performed several transactions in the segment. In this article he comments on the Logistics Snapshot Q3 2019 by sharing his experience from those transactions. You can download the Snapshot below.
Separate markets in Sweden
Rent levels in the segment has been stable over the past years. In Stockholm and Gothenburg you can witness some rental growth as land prices has increased. The main reason is the lack of available land and competition with alternative uses.
Outside of these two markets there are upward and downward forces cancelling each other out.
Land availability
In the national logistic hubs and municipal seats where the occupational demand is equally strong, land availability has been good. This has allowed the stock to grow to meet the demand. Net-take up has almost been the same as completions, meaning the market has absorbed all new space entering the market. Important to add is that few developments are made on speculation but so called BTS (build-to suit).

What about the yields?

The strong occupational demand and capital value growth, as result of yield compression, has attracted a wider spectra of developers/investors to the market. With only a handful of local developers in the past, the entrance of several new specializing in the segment has increased competition. This has made it cheaper to develop and allowed for lower rent levels.

Meanwhile in the "older" end of the stock, TPL operators value the flexibility of matching the lease duration with their own client contracts. A typical 3-5 year lease can be signed at a premium compared to the rent level of a longer lease.
Please contact Hampus with questions or if you would like to book a meeting with him.
Download the CBRE Swedish Logistics Snapshot Q3 2019 below.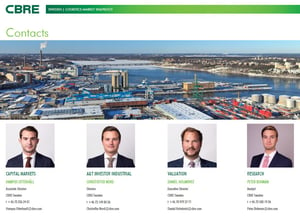 For more information about the
Logistics Snapshot, please contact:
Capital Markets – Hampus Otterhäll
Advisory & Transaction Services,
Investor Industrial – Christoffer Nord
Valuation – Daniel Holmkvist
Research – Amanda Welander & Peter Bohman
Read more at cbre.se about Capital Markets, Valuation (Fastighetsvärdering), Investor Industrial and Research (Fastighetsanalyser).