CBREs Swedish Capital Markets team has advised GLL Real Estate Partners, a fund manager on behalf of South Korean capital in the acquisition of Bråviken Logistik. The Korean capital has been locally represented by Korean LB Asset Management in the what becomes the first ever direct real estate investment by South Korean capital into Sweden.
Bråviken Logistik has previously announced that the sale includes all their three properties to a value of SEK 1.8 bn located in Jönköping, Norrköping and Nyköping, a total of approximately 140,000 sq.m.
Hampus Otterhäll, Associate Director, Industrial & Logistics, has led the transaction within CBRE: "This transaction has been exciting but also a learning experience. Guiding a whole new type of buyer into a, for them, completely new market has meant a great deal of due diligence. Now that one South Korean investor has paved the way, I feel certain that several more sources of capital from Korea will accompany them. With the entrance of this type of capital, in combination with the large portfolio buyers 2019 has witnessed, yields can likely continue to compress for the core end of the segment. Meanwhile, we are also experiencing an increasing interest to invest in relatively higher yielding assets as many investors are no longer competitive enough."
Lisen Heijbel, Head of Capital Markets comments:
"Logistics has definitely been one of the key themes in recent years. Korean capital has already made headlines across Europe and not only does this transaction prove the strength of the segment but of Sweden. We continue to be one of the most liquid and important investment markets in Europe. "
Martin Unglert, Market Officer Nordics and Germany for GLL Real Estate Partners comments:
"We are excited to close our first transaction in the Swedish market. This investment is in line with our strategy to further increase our allocation in the Nordic Region. There is further appetite for Swedish logistic assets from several of our capital sources."
About GLL Real Estate Partners
GLL Real Estate Partners is the real estate equity investment platform for Macquarie Infrastructure and Real Assets, a division of the Macquarie Group. A globally-active real estate fund manager and investment advisor headquartered in Munich, Germany, GLL operates 16 offices in 12 countries across the US, Europe, Asia, and Australia. The group currently manages EUR 8 billion, including more than EUR 3.5 billion in Europe. GLL employs varying commercial property strategies serving an investor group that includes pension funds, insurance companies and sovereign entities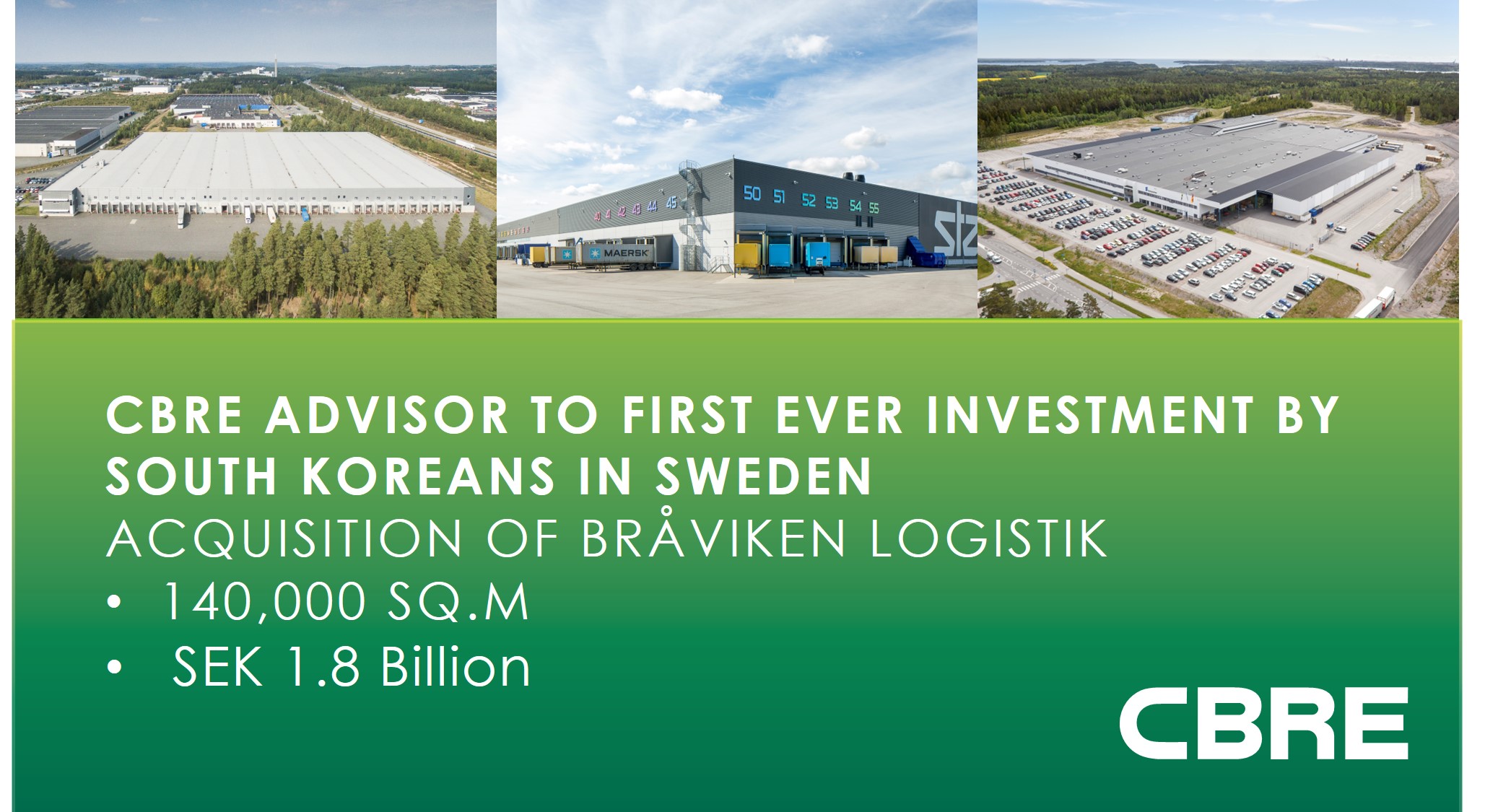 You can find other press releases at Sveriges Fastighetsblogg /Press Releaser
www.sverigesfastighetsblogg.se
About CBRE
In Sweden CBRE have offices in Stockholm, Göteborg and Malmö with 350 employees. Please read more at our homepage.