The rapid rise in multifamily housing (MFH) as an asset class across Europe has been underpinned by growth in the wider private rental sector (PRS). Read more in CBREs Multifamily Housing Report 2021.
The first European Multifamily Housing Report
With low volatility and low risk, MFH's income profile appeals to a wide range of investors. The report gives you a snapshot of the residential property markets in 40 European cities.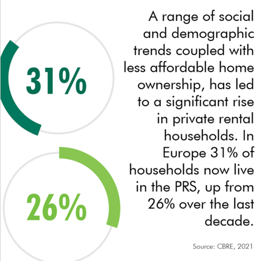 Sweden
Typically, Swedish residential properties are either detached houses owned directly (44%) or apartments owned indirectly via a cooperative housing association
(24%). The private rented sector is partly state-owned (18%), but 14% is owned by Swedish corporations.
The MFH asset class is the largest and most liquid commercial real estate sector in the Swedish investment market. But there are two asset classes in practice, rent-restricted assets with artificially low yields, and new products with so-called presumption rent. Presumption rents are negotiated with the tenant association,
but in most cases are close to market rent. The new legislation around presumption rents was introduced as there was very little new supply built under the rent
restriction system. Read more in the report.
Download the CBRE Multifamily Housing Report 2021, below.
For more information about Multifamily or if you would like to book a meeting, please contact:
Capital Markets – Linn Gregorsson
Research – Amanda Welander
Valuation – Daniel Holmkvist
Here you can watch the European Multifamily Housing Webinar, where a panel of experts from across Europe share insight from the report.
Read more at cbre.se about Capital Markets, Valuation, and Research.
Did you miss the article "The Evolution of Multifamily in Europe" by Marie Hunt, Head of Research, CBRE Ireland? You can find it here.