CBRE recently published the Logistics and Multifamily Snapshots. Now it is time for the Investment Market Snapshot. CBRE's Snapshots are some of the most popular reports about the Swedish Real Estate market.
Decreased volumes
Q3 volumes decreased 67% y o y. It's due to both strong comparison figures, as well as an effect of the pandemic.
The Snapshot shows that sectors with stable Occupier demand fares are the best.
Read more
Download and read more in the Investment Market Snapshot, see below.
Here you can find the snapshots for Logistics and Multifamily covering Q3 2020.
The Swedish magazine Fastighetsnytt have covered the Snapshot in an article.
You find it here. >>
(in Swedish)
Would you like to read Snapshots for the other Nordic countries? You find them at the Nordics Real Estate Blog. >>
For more information, please contact:
Capital Markets – Lisen Heijbel
Valuation – Daniel Holmkvist
Research – Amanda Welander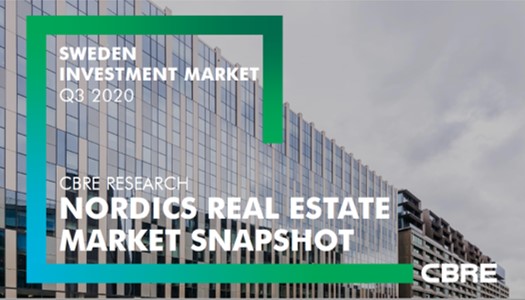 Read more at CBREs homepage:
Capital Markets, Valuation (Fastighetsvärdering) and Research (Fastighetsanalyser).