The Swedish Logistics Snapshot Q1 2020 is released.
The Swedish Logistics Snapshot for 2019 Q4 and Q3 were two of the most downloaded reports at the Swedish Real Estate Blog. Here you also find the Swedish Investment Market Snapshot Q4 2019.
Two Headlines in the Snapshot:
Logistics investment market overview
Here you will find information about the transaction volume along with key figures like Investment Volume, Largest single transactions, Number of transactions, Share of total all-sector volume, Cross border investments and 5 year swap rate.
Logistics occupier market overview
You find the new metrics for Prime yield, Prime rent, Average rent, Net absorption and Vacancy rate.
Please contact Hampus with questions or if you would like to book a meeting with him. CBREs Hampus Otterhäll is one of our experts in the Logistics segment and a very appreciated spokesperson for the segment.
Download the CBRE Swedish Logistics Snapshot Q1 2020 below.
Did you miss the interview with Hampus in Intelligent Logistik? You find it here: Logistikfastigheter: Portföljtemat fortsätter" (in Swedish).
For more information about the Logistics Snapshot, please contact: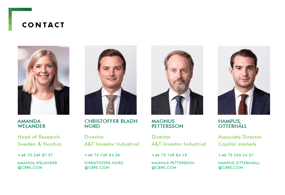 Capital Markets – Hampus Otterhäll
Advisory & Transaction Services,
Investor Industrial – Christoffer Nord
Advisory & Transaction Services,
Investor Industrial – Magnus Pettersson
Research – Amanda Welander
Read more at cbre.se about Capital Markets, Valuation (Fastighetsvärdering), Investor Industrial and Research (Fastighetsanalyser).