The Swedish Multifamily Snapshot Q1 2020 is released.
Last week we published the Swedish Logistics Snapshot for Q1 2020. Now you can also download the Swedish Multifamily Snapshot for Q1.
Two Headlines in the Snapshot:
Multifamily investment market overview
Here you will find information about the investment market with key figures like Investment Volume, Largest single transaction, Number of transactions, Share of total all-sector volume and Cross-border investments.
Multifamily construction market
You find key figures for Construction Starts, New Completions, Average Annual Rent and Average Sale Price.
Download the CBRE Swedish Multifamily Snapshot Q1 2020 below.
For more information about the Multifamily Snapshot or if you would like to book a meeting, please contact: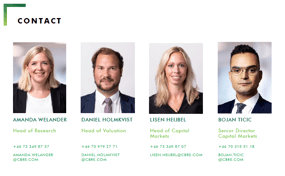 Research – Amanda Welander
Valuation – Daniel Holmkvist
Capital Markets – Lisen Heijbel and Bojan Ticic
Read more at cbre.se about Capital Markets, Valuation and Research.
Did you miss the article "The Evolution of Multifamily in Europe" by Marie Hunt, Head of Research, CBRE Ireland? You can find it here.