The Swedish Multifamily Snapshot Q 2020 is now available with new insights.
This week we will start to publish our Q2 snapshots. First out is the Multifamily Snapshot. You can download the full Snapshot below.
The headlines are:
Multifamily market key figures.
The report shows that the market is on track.
The investment market during the quarter
The segment has remained resilient despite the market turmoil. Read more about the prime yields and investment volumes in the snapshot.
The Swedish Multifamily market
The construction market has bottomed out. A graph shows apartment construction starts and completions.
Download the CBRE Swedish Multifamily Snapshot Q2 2020 below.
For more information about the Multifamily Snapshot or if you would like to book a meeting, please contact: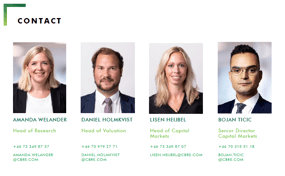 Research – Amanda Welander
Valuation – Daniel Holmkvist
Capital Markets – Lisen Heijbel and Bojan Ticic
Read more at cbre.se about Capital Markets, Valuation and Research.
Here you find the Swedish Multifamily Snapshot Q1, 2020.
Did you miss the article "Will multifamily become the most popular real estate asset class in the future?" by Einar Melberg, Head of Research, CBRE Norway?
You can find it here.