A bit slower start of the year after a strong Q4. The activity has however picked up more lately, though these deals will not be finalized until Q2. Read more in the Snapshot.
In this article, you find the CBRE Sweden Real Estate Investment Market Snapshot for Q1.
Investors started the year a bit cautiously awaiting a better market post-vaccine
distribution. The demand is strongest for industrial & logistics, residential, and community properties. Download the full Snapshot below.
CBRE has recently published the Snapshots for
Please click on the respective link above to find the Snapshots.
For more information, please contact:
Capital Markets – Patrik Kallenvret
Valuation – Daniel Holmkvist
A&T Occupier – Anders Hansén
Research – Amanda Welander
CBRE's Real Estate Market Snapshots are the most popular and downloaded material at the Swedish Real Estate Blog.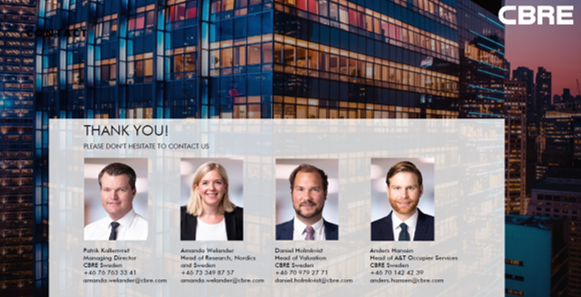 Read more at our homepage:
Capital Markets, Valuation (Fastighetsvärdering), Investor Leasing, Occupier and Research (Fastighetsanalyser).