Please see the latest insights in CBREs Real Estate Snapshot for Office. The Market Snapshots are the most downloaded material at the Swedish Real Estate blog. We hope you find this Snapshot valuable.
The Swedish Logistics Snapshot and the Multifamily Snapshot for Q1 was recently published. This article covers the Office Marketview. If you missed our Office Market Snapshot for Q4 2019 you can download it here.
Two Headlines in the Office Snapshot:
1. Office Investment Market overview - including Office transaction volume, key figures like prime yield, number of transactions, cross-border investments and more.
2. Office Occupier Market overview - including Stockholm leasing market comments, key figures like prime rent etc, leasing and investment activity.
Please contact Nina de Besche or any of the experts below with questions or if you would like to book a meeting with them.
Download the Swedish Office Marketview Snapshot Q1 2020 below.
For more information about the Swedish Office Marketview Snapshots, please contact: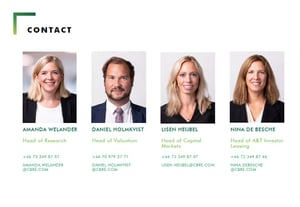 Research – Amanda Welander
Valuation – Daniel Holmkvist
Capital Markets – Lisen Heijbel
Advisory & Transaction Services,
Investor Leasing – Nina de Besche
Read more at cbre.se about Capital Markets, Valuation, Investor Leasing and Research.