CBRE have recently published the Multifamily and Logistics snapshot for Q2 2020. In this article you find the Investment Market Snapshot, written by our experts.
Office, Residential and Industrial
The office and residential segments were the biggest during the quarter. The demand for logistics remain resilient, supply of investable assets remain low by
comparison.
Q2 volumes decreased 42% y o y. A downturn was widely expected, given the turmoil in the wake of the pandemic.
Download and read more in the Investment Market Snapshot, see below.
Here you can find the snapshots for Logistics and Multifamily covering Q2 2020.
You can find the previous snapshot for the Investment Market here >>
For more information, please contact:
Capital Markets – Lisen Heijbel
A&T Investor Leasing - Nina de Besche
Valuation – Daniel Holmkvist
Research – Amanda Welander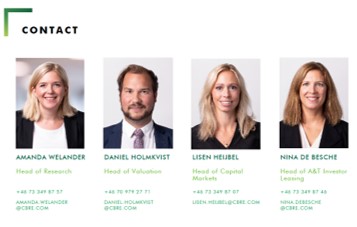 Read more at CBREs homepage:
Capital Markets, Valuation (Fastighetsvärdering), Investor Leasing and Research (Fastighetsanalyser).