Sweden, 16 January 2020 – CBRE announced today that Amanda Welander has been appointed as Head of Research, Nordics.
Amanda will lead CBREs new Nordic Research Team, consisting Toni Liimo, Finland, Dragana Marina, Denmark, Einar Melberg, Norway and Jussi Niemistö, Finland. The promotion is effective immediately and Amanda will have a dual role, remaining as Head of Research for Sweden as well.
Amanda is well known in as the Research expert for the Real Estate market in Sweden, but also for the Nordic markets. Amanda writes and presents reports and insights continuously, i.e. the CBRE Metro Report, Snapshots for the Real Estate industry, Brexit and more. In February she will publish the Swedish Real Estate Market Outlook 2020, wish also will be found at the Swedish Real Estate Blog - Sveriges Fastighetsblogg.
Amanda says:
"I am very honoured to lead this team of Research experts. It is a complete team and we are ready to give top class insights to our clients and the market."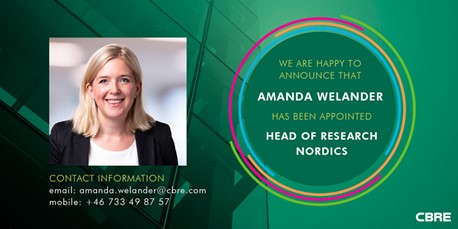 The new Nordic Research Team will work closely with the new Nordic Capital Markets Team, that was announced yesterday.
CBRE has been active in the Nordic market since 1999 and the Nordic countries are expected to grow faster than the other European countries and all Nordic countries are among the Forbes top 15 best countries to do business in. Only 10 countries globally can boast a AAA rating from all three top rating agencies, and of these three are in the Nordic region.
CONTACT
Yvonne Ehinger
+46 (0) 73 349 8701